Blue Skies Launches in Shropshire with a splash at Inspiration Day at RAF Cosford
Blue Skies 1 students from Charlton school in the No. 1 School of Technical Training hangar at RAF Cosford
JET's first Blue Skies Programme in Shropshire has officially launched with an Inspiration Day at RAF Cosford on 26th September. 14 Year 8 students from Charlton School joined CEO of the Jon Egging Trust, Dr Emma Egging, and the Station Commander, Group Captain Tone Baker, to kick off the programme with a day of activities and inspirational experiences across the air base.
Dr Emma Egging, CEO of JET said:
"JET is extremely proud of our new partnership with RAF Cosford. The skill, expertise and enthusiasm of the staff will enable us to provide high quality inspirational learning experiences for local students. Launching our seventh region here at Cosford puts us on track to be working in nine regions, and offering life changing opportunities to 10000 young people a year by 2020."
The day started with a briefing from Sqn Ldr Gaz Stevens followed by an introduction to the Defence School of Aeronautical Engineering, with a tour of the No. 1 School of Technical Training hangar, where students were able to explore aircraft, sitting in the cock pits and asking questions about the technical equipment on board as well as seeing and finding out about munitions.
"I will never forget sitting in a Tornado – an awesome fighter jet" – Shyan, aged 13
Blue Skies students from Charlton School experience what it is like to be a pilot in the RAF
In preparation for the pool session, RAF Cosford staff took students through dry drills and demonstrated how to inflate the life preservers that RAF personnel use. The young people also learnt about night vision goggles and were able to try them on.
"meeting Emma Egging was special to me as she has carried on Jon's dream, which means I can be on this programme" – Kel, aged 13
Blue Skies 1 Students from Charlton School learn about how night vision goggles work and have a chance to try this specialist equipment for themselves at RAF Cosford
During the pool session, led by Cpl Ashley Anderson, from the RAF School of Physical Training, the teams of students really came together and pushed themselves to their limits undertaking swimming tests and teamwork exercises using the inflatable life rafts.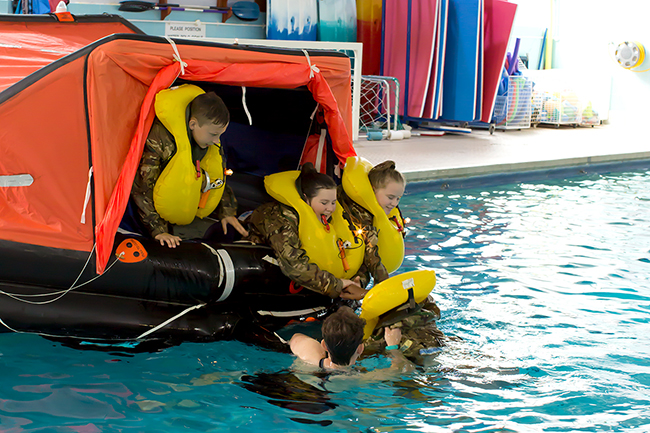 Blue Skies 1 students learn and practise teamwork skills, making sure all of their team make it into the life craft in the pool at RAF School of Physical Training
Caroline Elliot, Pastoral Manager for Year 8 at Charlton School said:
"Already they look like they are working as a team, where they have been helping each other onto the life raft and responding and interacting with each other and the RAF staff. They have really excelled themselves and pushed themselves to their limits as well. Already, we have had some who can't swim at all who have ended up swimming the whole length of the pool with jackets on and getting onto the life craft with the others. Nobody was judging anybody else about how well they could swim. Most importantly they have been laughing and smiling."
After the pool session, students refuelled with packed lunches provided by RAF Cosford. They then met the Station Commander Group Captain, Tone Baker, and reflected on the day and their achievements.
Stn Cdr, Group Captain Tone Baker, Sqn Ldr Gaz Stevens, and RAF Cosford staff with Dr Emma Egging (CEO of JET), Ellie Orton (Head of Youth Programmes at JET) and Sue Byatt (Regional Programme Manager and Lead Educational Advisor at JET) with Blue Skies 1 Students from Charlton School
Sqd Ldr Gaz Stevens:
"I think these young people have definitely been inspired, by the aircraft, the munitions, the safety equipment [and] all the people working on the aircraft. It's been absolutely fantastic. A really great start to the programme. The staff have been really patient, energetic and amazing. I'm really proud of all of my team that have come together and helped make this happen"
Wayne Denfhy, Deputy Headteacher of Charlton School said:
"I am of the belief that this could be a life changing project for the students involved and I look forward to what they will go onto achieve because of their involvement. It will be a very proud day for parents and teachers alike when the students successfully complete the project and have their passing out parade. But most of all it will be a statement of what these young people can achieve when they really put their minds to something."
Well done to all 14 students from Charlton School for taking part in the Inspiration Day and starting their Blue Skies journey.