JET10 Relay 2022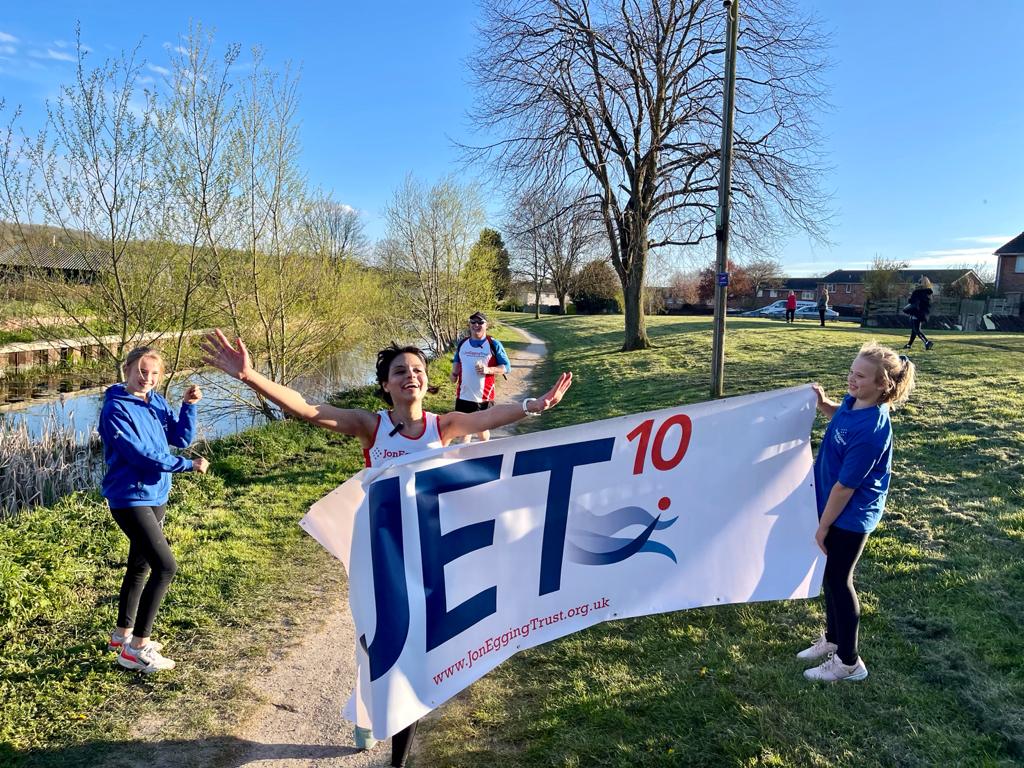 Choose your team, set your challenge and take part from anywhere in the world.
Our 100km JET10 Relay team event will take place over the weekend of 25th and 26th June 2022.
Inspired by JET's ethos of 'overcoming adversity' we want each team to set their own challenge when they enter.
The beauty of the challenge is its versatility; get a team together (ideally ten people running 10x10km, but a minimum of three people per team), choose your 'overcoming adversity' challenge, and take part from wherever in the world you like! The event is open to all, regardless of age, fitness or ability.
There are so many ways that you can complete your 100km relay. Eg:
Compete to win one of the JET10 Trophies
Wear fancy dress
Try some old school sports day challenges – the sack race / egg and spoon race / three legged race
Car pull or a plane pull
Use alternative means (eg paddleboard, scooter, wheelchair etc)
Find a super hilly course to climb
The possibilities are endless, and what's more, teams don't even need to be in the same location to compete; in 2021, one fabulous team competed with runners in ten different countries!  Push yourselves and have fun while raising vital funds to support vulnerable young people. But always remember to stay safe!
Entries cost £100 per team, and we ask that each team member commits to raising £100 sponsorship, where possible.
To help promote the event here's a poster that you can print off and display.
The trophies
Three trophies will be awarded to competing teams:
JET10 Speed Trophy: Awarded to the team who finishes their 100km (10x10km) in the fastest cumulative time on foot of all competing teams. *
• JET10 Challenge Trophy: Awarded to the team who best embodies JET's ethos of 'overcoming adversity' in the 10x10km challenge they set themselves. **
• JET10 Fundraising Trophy: Awarded to the team who raises the most money via their JET10 Virtual Relay fundraising page. ***
* Teams who wish to be considered for the Speed Trophy must be able to verify their times – if called upon by the JET10 committee – using a recognised running app (eg Strava, Garmin Connect etc). A team's final time must be submitted to events@joneggingtrust.org.uk no later than 15th July 2022.
** This trophy will be judged by the JET10 committee based on information supplied on a team's online team page and/or shared with us via social media throughout the duration of the relay period (ends 15th July 2022) using the #JET10 hashtag. The judges' decision is final.
*** Donations will be counted up-to-and-including 15th July 2022. Donations received after this time (whilst very gratefully received by JET) will not be counted towards a team's JET10 grand total.
To find out more, please email events@joneggingtrust.org.uk