Diary of a Youth Liaison Officer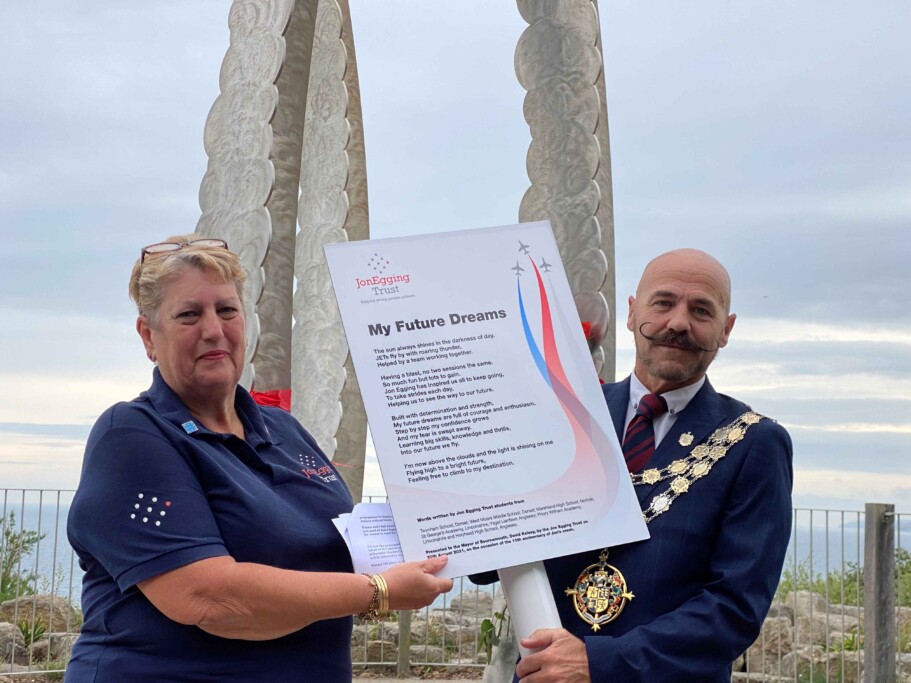 By Kaye Jackson, Regional Manager, Oxfordshire and Wiltshire
"As we say goodbye to 2021, I have been reflecting what a year it's been for the Jon Egging Trust. It was always going to be a memorable year, ten years on from Jon's accident; a year in which we celebrated Jon's legacy.
At the start of the year, despite schools being closed due to Covid, we quickly adapted our delivery methods to work online as demand for our support grew. I was apprehensive about how those sessions would be received but I needn't have worried. The young people who logged on were tremendous, readily engaging in the activities we devised. Our Youth Liaison Officers worked hard across numerous year groups so it was sometimes a challenge to make the online activities span multiple age groups, but all were fun, from 'Guess Who', 'Pass the Pen' and 'Blind Drawing' to ending each session with some moments of mindfulness.
As the anniversary of Jon's accident approached in August, we wanted to mark the occasion in a special way as a charity. There is a memorial to Jon on the West Cliff in Bournemouth, and each summer Bournemouth Council work with us to remember Jon by tying symbolic red ribbons around the memorial, and the Mayor speaks about JET's work. This year, JET invited students from our schools across the UK to collaborate in writing a poem 'My Future Dreams', with each school adding their own lines. I was honoured to host a special sunset ceremony on 20th August which two members of the Red Arrows team attended, along with a contingent from the Southampton University Air Squadron (Jon and Emma's University Air Squadron). The poem was made into a plaque which was read aloud by one of our local graduates and ambassadors, Hayden Corney, before I presented the plaque to the Mayor on behalf of JET. The plaque now stands next to Jon's memorial as a permanent reminder of the positive impact of his legacy and our work over the past decade.
In September, the Bournemouth Air Festival took place after much deliberation by the organisers, and what a glorious time we had! The sun shone and the JET stand was visited by hundreds of people, all keen to learn more about our work. Then fast-forward to the autumn term, and what a full-on term it's been for our youth team across the country as we've made a hugely welcome return to the classroom to support our students face-to-face again. Our newest area, Wiltshire, has grown rapidly in this time, with five new schools signing up to participate in JET's programme, with more to follow. So, this special anniversary year has certainly had its challenges, but more importantly, its triumphs, and I look forward to what 2022 will bring as we work hard to support even more young people in need."