JET propelled graduate runs in Great North Run, alongside Dr Emma Egging and the Chief of the Air Staff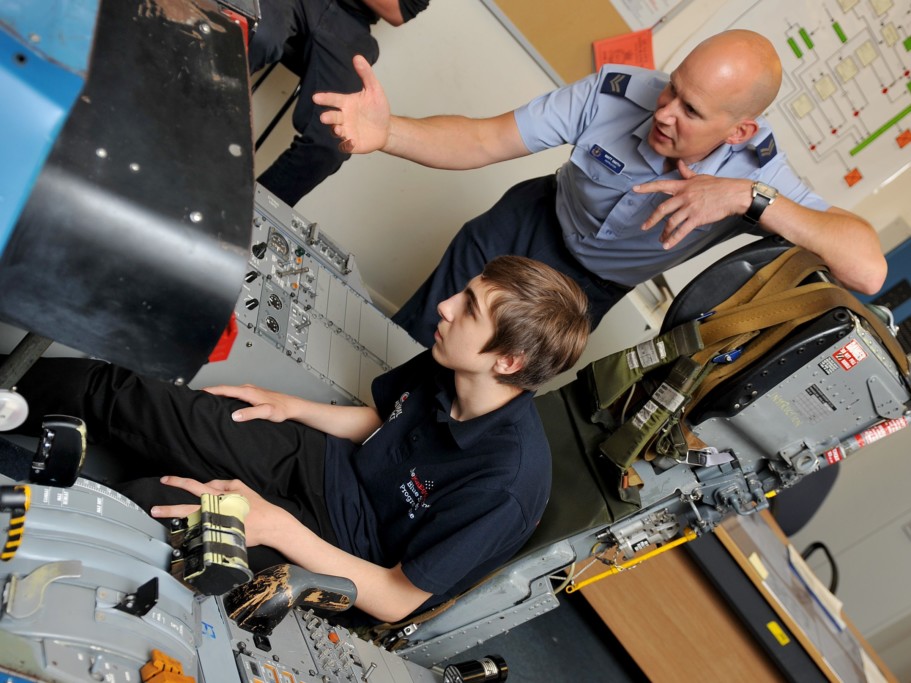 This year the Jon Egging Trust (JET) is fielding a formidable team for the Great North Run, including for the first time, a graduate of their Blue Skies programme.
18-year-old Nathan Holland completed three years of Blue Skies in Norfolk, and now wants to help other young people have the same opportunities as he did. He explains:
"From the class trouble maker, to Head Boy and role model for the young, JET changed me as a person and I want to be able to return the favour for the great work they do. By donating to the Trust, you can see more young people get the opportunity and support they need to grow in confidence and to be able to grab their chances and reach their full potential."
Nathan has trained for the GNR with former Red Arrow Sqn Ldr Stew Campbell who will be running through the streets of Newcastle for the first time, having flown overhead with the Reds for the past three years.
12km tonight with Blue Skies grad Nathan. Grateful for any support! https://t.co/eLTunFbAhV @JonEggingTrust @RAFMarhamMedia #TeamJet pic.twitter.com/D7rJp57zT3

— Stew (@Was_a_Red) August 22, 2017

Running alongside Nathan and Stew will be Chief of the Air Staff, Air Chief Marshal Sir Stephen Hillier who is running for the second time for JET:
"I'm very pleased again to be running in the Great North Run in support of the Jon Egging Trust. It helps show my commitment to the Trust's goals of inspiring young people and developing their potential, and to the memory of an outstanding RAF pilot."
On his last GNR outing for JET, Sir Stephen spoke to the BBC about why he supports JET.
Also running is CEO of JET, Dr Emma Egging, who has run in almost every GNR since her husband's tragic accident in 2011. She explains why this year is so special:
"This year's GNR is particularly meaningful for me as I'll be running with Nathan, one of our fantastic Blue Skies graduates. Now 18, Nathan was on our very first Blue Skies programme in Norfolk. [He] is just one of the thousands of young people who have been through our programmes since JET was established in 2011.

When Nathan and I are at the GNR starting line nervously lacing up our trainers on the 10th September, we will be running to raise awareness for all those young peoples' achievements and to raise funds to help ensure we can continue to change young peoples' lives for the better, long into the future."
Read Emma's full article here.
Here's the full line-up of JET runners this year:
Squadron Leader Stew Campbell – a Red Arrow for the last three years, this is his first year running the GNR instead of flying over it. Stew is a POC for JET at RAF Marham and was previously POC at RAF Scampton
Wing Commander Martin Higgins – 'Higgy' was Officer Commanding of the Red Arrows until a month ago. He has flown over the GNR in a red hawk countless times as well as running it for the RAF team.
Air Chief Marshal Sir Stephen Hillier, Chief of the Air Staff – taking part in his second GNR wearing a JET vest
Emma Egging – founder and CEO of the Jon Egging Trust; she has run the GNR every year since Jon died and launched JET at the GNR 2011, firing the starting gun alongside Mo Farrah
Angie James – JET's Head of Business & Communications running her third GNR for JET.
Nathan Holland – JET Graduate from our Norfolk Blue Skies programme. Running the GNR for the first time as he wants to tell other young people they can, like he did, turn their life around. Nathan has trained for the GNR with Stew Campbell.
Wg Cmdr Matthew Hoare – Officer in Charge of base support at RAF Lossiemouth. Matt will be the POC to spearhead JET's development of its first base in Scotland at RAF Lossiemouth
Wg Cmdr Andy Chisholm – OC 29(R) Sqn who knew Jon personally having trained together on the Hawk at Valley
Sqn Ldr Mark Robertson – RAF pilot who knew Jon personally from working on 1V squadron on the Harrier
Sarah Robertson – JET Education Lead for JET inspired, also knew Jon personally as she is married to Mark
You can support our brilliant running team by making a donation at JustGiving.com.