Space lift off for JET students in Oxfordshire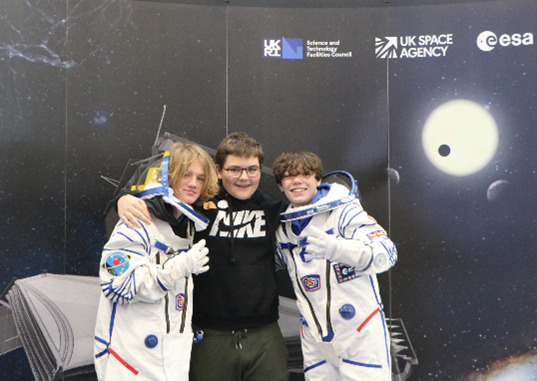 JET students from Carterton Community College in Oxfordshire were privileged to take part in two exclusive workshops at the UK's national space laboratory, RAL Space, as part of their syllabus on JET's three-year Blue Skies programme.    
Ambassadors from RAL Space led the Yr 9 students in a variety of space-themed activities designed to develop leadership, communication and problem-solving skills and encourage 'outside the box' thinking. Activities included supporting the students to design their own space mission, manoeuvre a Mars Rover, and build and test a spacecraft.    
JET's Area Director South, Allie Hack, said that the visit is part of JET's new long-term partnership with RAL Space and is a significant boost to Blue Skies programmes in the region.
"As a charity we use these unique STEM experiences to inspire our young people and help bolster self-belief and work-readiness; few subjects fire up the imagination as space does, and our Year 9 students were hugely inspired by the whole experience. Many of our students lack confidence and aspiration and it's so important to connect them with inspirational employers in their local area. You never know when that spark of inspiration might strike; when a young person suddenly thinks 'this is what I want to do!'"  
Jack Pleasant, Graduate Test Engineer at RAL Space said:
"Working with the students was a pleasure, I think I had as much fun as they did! I was even taught a thing or two about planets that I did not know by a student! It was great to have the opportunity to help demonstrate what a career in the space industry could entail, and how it is a completely plausible prospect for the students – especially those who have faced challenges in life – and give them some confidence in what they can achieve and choosing their own future." 
RAL Space is part of the Science and Technology Facilities Council and is at the heart of the Harwell Space Cluster, and is currently in the trial phase of gradually reopening its site to visitors following the pandemic. The JET workshops were the first school events hosted at the site for almost two years and the evaluation will help planning for future events.