Hampshire region is really taking off following first ever Blue Skies graduation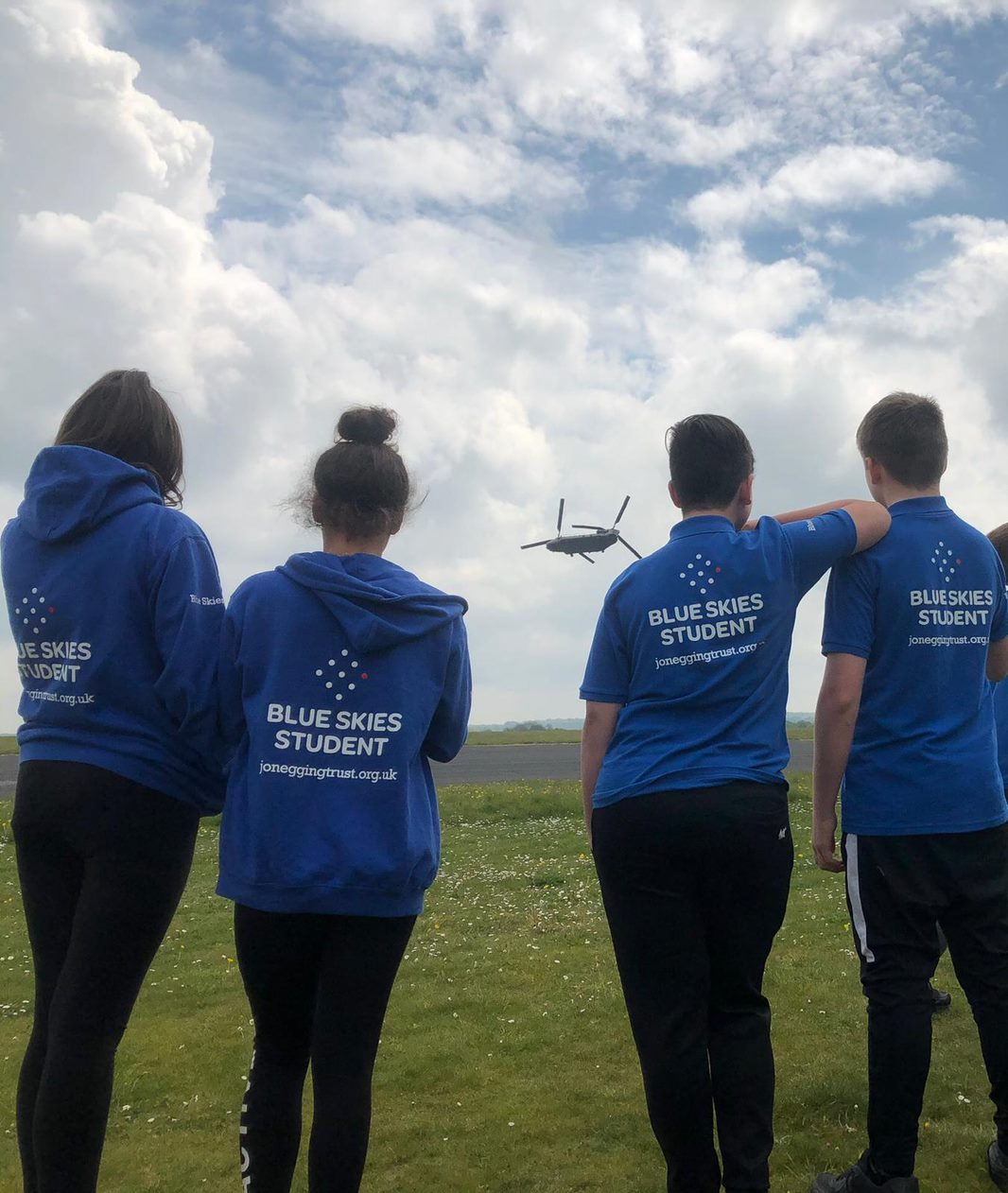 JET's newest region celebrated its inaugural Blue Skies Graduation on 20th May 2019. The Hampshire Graduation took place at RAF Odiham and was the culmination of a Blue Skies 1 programme run in partnership with military and corporate partners in the region. At the ceremony thirteen students from Robert May's School confidently delivered presentations about what they have learned and the difference the programme has made to them to a room of VIP guests, JET volunteers and supporters plus their own family and friends.
The focus of the Blue Skies 1 programme is on Teamwork and Communication and thanks to partners RAF Odiham, MoD Southwick Park and NATS this group of students have taken part in a diverse range of activities designed to challenge them, improve their communication skills, work better as a team and become more resilient. Over the course of the last five months they have had to 'Hang Tough' at the Odiham Inspiration Day, solved engineering challenges at the Chinook Maintenance School, solved puzzles whilst blindfolded at the Force Development Squadron, learnt to use batons and investigate a crime scene at the Defence School of Policing and Guarding, produced video interviews of managers at NATS, learnt how to strip down and reassemble a variety of weapons with the Regiment Section, worked on radio communication with MAB10, had an unexpected shower at the Fire Section and had a sneak preview of the 2019 Chinook Display Team!
In their presentations the students spoke of the sessions they had enjoyed and the skills they had learnt over the first year of their Blue Skies programme:
"I have really noticed that I am more comfortable talking around larger groups" – Karwyn, 13
"I have learnt not just to say I can't do something but to actually give it a try" – Will, 12
"I have learnt to work in a team with people I wouldn't have picked" – Isabella, 13
"I can listen better when being talked to for a longer time" – Jake, 12
"I have learned to put my ideas forth and to listen to other people's ideas" – Oliver, 13
"I think my behaviour has improved massively and put me and my teachers in a better mood and made me get along better with everyone. I'm better at listening and teamwork and just a better person" – Danny, 13
Responding to their presentations Group Captain Lee Turner, RAF Odiham Station Commander, told the students
"You were absolutely brilliant, what you have done takes courage and speaks volumes of the potential you can achieve"
while Robert May's School Principal Joanna West thanked all involved in the programme for the opportunities they had given the group:
"You provided great challenges to our students and supported them throughout. I cannot thank you all enough for your collaboration and we cannot wait for next year!".
All the students were then presented with their certificates by Group Captain Turner and JET co-founder and trustee Dawn Egging.
Speaking at the graduation, JET CEO Dr Emma Egging encouraged the students, telling them
"This is just the beginning of your JET journey. By sticking with the programme and graduating today you are sending out a clear message to family, friends and teachers that you have got what it takes to reach for the stars and be the best you can be".