JET students get hands on with heritage at RAF Honnington
Blue Skies students from Neatherd High School (Dereham) were welcomed to RAF Honington earlier this week to take part in a tour of the RAF Regiment heritage centre and exciting communication activities as part of their Blue Skies Inspire Package. The trip was well timed with Remembrance Day just around the corner as the the museum is laid out to guide students through the changes to the RAF Regiment since it was founded in the 1940's through to recent conflicts.
Students learned that the RAF doesn't just work in the sky – everything the RAF Regiment does is on the ground. For example, stationed on the ground they shoot enemy planes overhead to protect RAF planes. The static, World War II anti-aircraft gun was a highlight for students, and they particularly enjoyed working in pairs to maneuver the enormous gun: one operator controlled the height of the gun, the other controlled the left-right. This demonstrated the importance of communicating clearly, as without strong communication skills the operators would be unable to aim the gun effectively.
Later in the morning, the Officer showed some of the eager students the differences between old and modern arms. Students were impressed to learn that old gun could only hold 10 bullets, while the more modern gun weighs the same amount but holds three times as many bullets. Throughout the tour, the officer stressed the importance of communication. Students were able to see the different ways the RAF Regiment communicates: flashing lights, radar, trails of glow sticks to mark safe areas.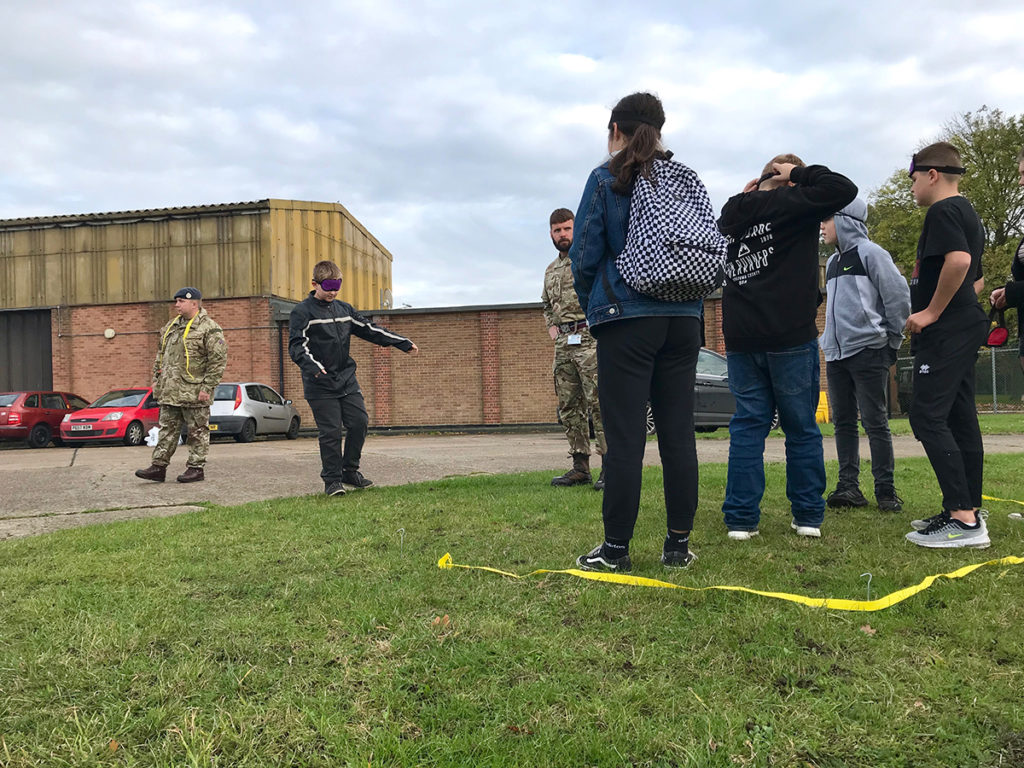 Once students had learnt about different methods of communication they had to put this knowledge to work in the afternoon, when they were met by two corporals who delivered some inspiring communication activities. Firstly, students had to direct their blindfolded partner into a marked area as quickly as they could – this was certainly a challenge and caused lots of laughter.
Then, students had to work in teams to get themselves from A to B, balancing on two long planks of wood. This required lots of communication and experimentation to ensure that everyone in the team worked together. The fastest group found it was easier to complete this task if the person at the back gave the directions. These exercises built on the skills students have been developing throughout the Blue Skies Inspire Package.
One student said:
"I enjoyed the day because it's not something I've ever done before"
That is exactly what the Jon Egging Trust strives to do: provide students with exciting, unique experiences that motivate and inspire them. We couldn't do this without our wonderful partners at the RAF. We owe them a great deal of thanks for welcoming us and delivering such a brilliant day of events.