Tech to the future
Few JET days come more inspiring than Team Wiltshire's recent visit to our partners at QinetiQ in Farnborough. From piloting helicopters (virtually, of course!) to testing sustainable vehicles, Yr 8 Blue Skies students from Stonehenge School in Amesbury were offered a unique behind-the-scenes experience of the technology of the future.
The group visited QinetiQ's giant wind tunnel – one of only three pressurised wind tunnels in the world capable of testing aircraft models in extreme wind conditions – before spending time learning to fly in a simulator and helping to test next-gen sustainable military vehicles.
Visits like these are vital to our young people, not only opening doors of possibility to future careers, but also helping students to develop confidence and self-assurance in their interactions and conversations with the professional mentors they meet.
Regional Manager, Kaye Jackson, who led the visit for JET, said that the students were enthralled from start to finish: "They were delighted to discover that there really is a job working in a simulator all day, trying to land aircraft – it was their favourite part of the day and, not surprisingly, lots of them said they would like to work in simulators in the future! That's why these visits are so important, they are a lot of fun and take young people away from the confines of their school environment, but it's also hugely eye-opening and inspiring for students to meet scientists and engineers and see what their jobs entail. A big thank you to everyone at QinetiQ for making this exciting day happen!"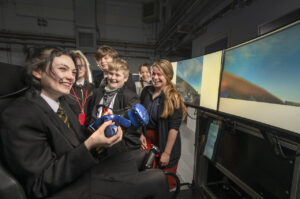 Christina Wagstaff, Corporate Responsibility Advisor at QinetiQ said: "It was a pleasure to welcome the students and teachers and put into context the real-world application of STEM subjects by showing them around our wind tunnel and simulation facilities and introducing them to our STEM role models."