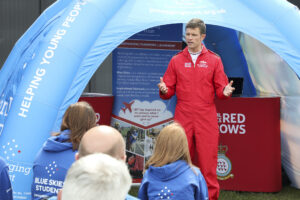 Our JET Inspired resource hub brings to life our core themes of teamwork, leadership, communication and resilience.
The hub is packed with engaging video content and free-to-download teaching resources and offers a privileged behind-the-scenes look at the working world of the Red Arrows. Each piece of content examines how the vital life skills above are as relevant to the success of the Reds as they are to the young people they inspire.
Each video is accompanied by a series of engaging lesson plans, activities and resources aligned to Key Stages 2, 3 and 4 of the PSHE (Personal Social and Health Education) National Curriculum.
Login to JET Inspired
Teachers, we're here for you!

JET Inspired was developed in partnership with the Red Arrows in response to the Covid-19 pandemic. It offers wider access to JET's unique education programmes and allows teachers to deliver some of the same inspiring sessions used by our in-house Youth Liaison Officers.
Learn more about the launch of JET Inspired and our Red Arrows partnership.