Josh, aged 22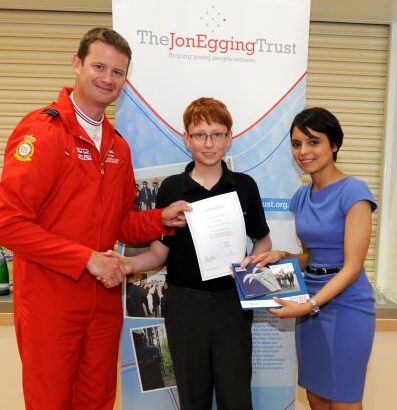 'JET helped me realise that life throws you lots of curve balls, and that's OK – you catch the ones that matter.' – Josh, Blue Skies Graduate.
Josh, now twenty-two years old, joined JET on a Blue Skies programme when he was just thirteen. Now, after achieving a first-class honours degree in Product Design from the University of Lincoln, we caught up with him to talk about his time with JET…
Why do you think you were chosen to join a Blue Skies programme?
'I would have described myself as very quiet and shy, I had trouble engaging in conversations and making friends. This was picked up by my school, who suggested that a Blue Skies Programme would be a good fit.'
How did you feel about joining a Blue Skies programme?
'I remember being put in a classroom with several other students around the same age from different backgrounds and abilities. Then, Emma came in and told us who she was, and that we had been selected to take part in JET's programme, which meant I would be taken out of school and sent to the surrounding RAF bases over the next few months, starting next week…. I was terrified!'
What were the first few sessions/months like?
'In those first months, I was bussed off to RAF Scampton, Cranwell, Waddington and Coningsby. I met both volunteers and serving members. I also had to take part in activities that made me – God forbid! – interact with other people.
'But, even after that first day I returned home buzzing, I talked nonstop of what I did, where I went and who I met. My mum was happy that I couldn't stop talking… something she now regrets!'
What impact do you think participating in a Blue Skies programme had on you?
'JET helped me to build a mindset of overcoming situations and adapting.'
'Little did JET know how much of a part it played in increasing my confidence. Even before the second year of Blue Skies, I joined the Air Cadets, taking part in their activities and going to new places such as RAF Wittering and countries like Belgium. I even fainted at my graduation ceremony and knocked my teeth out, something I can now laugh at!'
What did you do after school? What are you doing now?
'I couldn't enlist in the RAF due to medical circumstances therefore I took a different route, and in 2022 finished my degree with a first-class honour in Product Design.
'Some of my achievements include winning this year's Royal Society of Arts Student Design Awards, a concept and design to convert decommissioned oil rigs into large scale kelp farms and processing units for rural Scottish economies. I also have a product in development that will be hitting the market next year that I am in the stages of seeking funding for.'
Looking back, what do you appreciate the most from your time on a JET Blue Skies programme?
'Reminiscing on those days, the thing I most appreciate was talking to those who volunteered their time. Being able to listen to them recall their stories, talk about their day-to-day lives, the places they had been, the lessons they had learnt and their experiences. It made me realise that life throws you lots of curve balls, and that's OK – you catch the ones that matter. '
Like all of our Blue Skies graduates, we at JET are incredibly proud of Josh. At just 22 he has already achieved so much, and we can't wait to see what else he conquers and achieves in his very bright future ahead!