Time to shine – Bremont support goes from strength to strength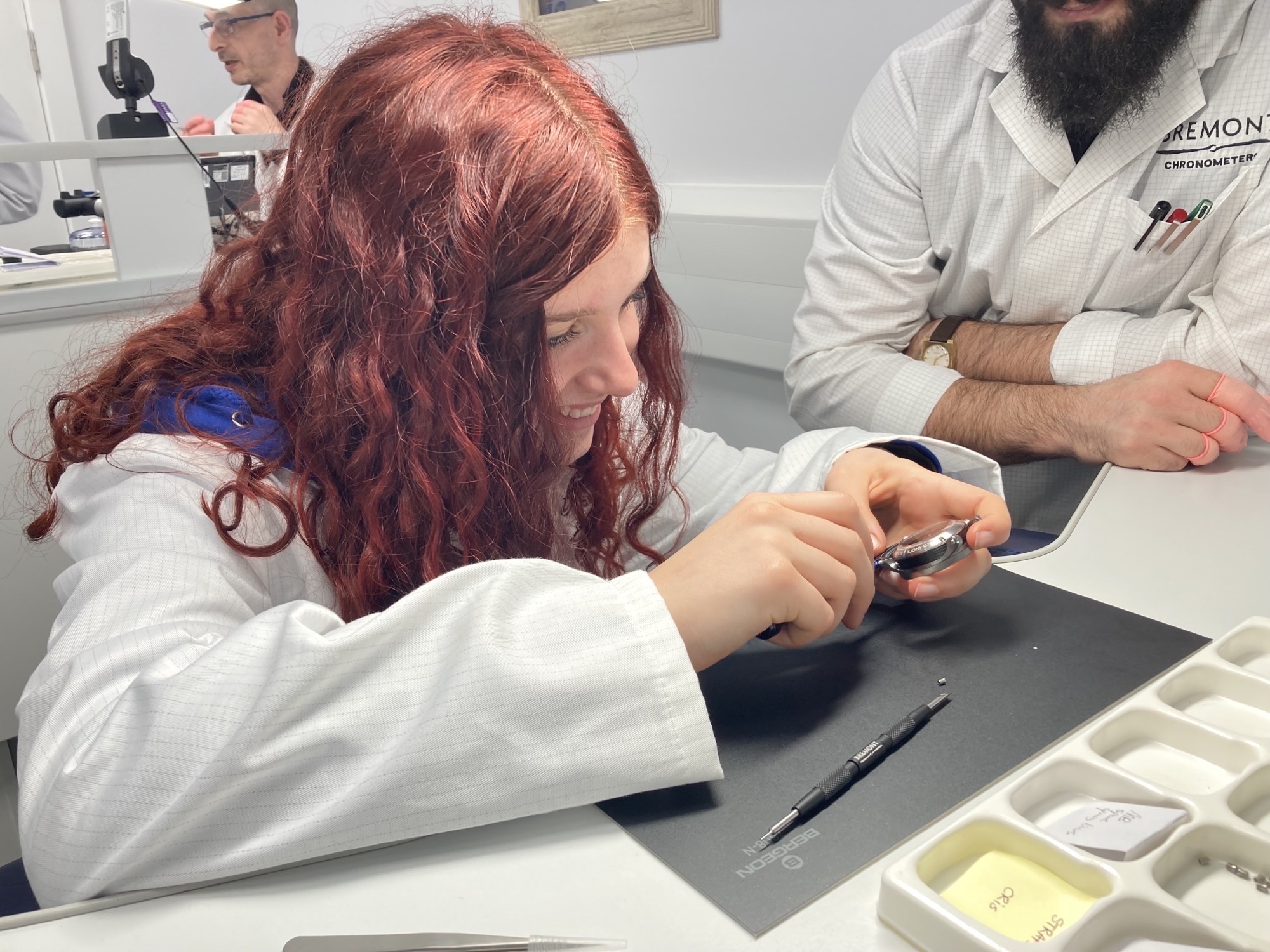 The Jon Egging Trust has been delighted to receive a £12,000 donation from our corporate partners Bremont this month, as a result our 'charity of the year' status at their manufacturing and technology centre, The Wing, in Henley on Thames.  
The donation will help to fund at least 300 hours of support for students enrolled in our Blue Skies programmes, which help vulnerable young people to build confidence and aspiration, and overcome life challenges. 
Master stroke
Since 2018, the team at Bremont have supported JET students in Oxfordshire and Hampshire by hosting tailored watchmaking and watch-design workshops to help build confidence, aspiration and employability skills.   
These masterclasses have proved hugely motivational and transformative for many of our students, including Sarah* who visited The Wing as part of her third year Blue Skies 'employability' module earlier in 2022. Sarah had suffered from severe anxiety, and was struggling at school as a result. Her Bremont workshop was the catalyst for boosting her self-worth and self-belief, and since graduating from Blue Skies she and her teacher have reported increases of between 100-150% in her confidence, resilience, attitude to learning and ability to work with others. 
Click here to read more about Sarah's inspiring Bremont story. 
Stronger together 
JET CEO, Dr Emma Egging:   
"We're immensely grateful to the team at Bremont for their ongoing support, and for this fabulous donation which will make such a difference to so many young people. As you can see from Sarah's story – JET's long-term support is what gives our students the framework to think differently about themselves and their own potential, and it is those individual moments of magic that happen along the way – in Sarah's case, the watchmaking workshop at Bremont – that is the catalyst for our students leaning into, rather than turning away from, their education. We look forward to continuing our richly rewarding relationship with Bremont into 2023 and beyond."  
Catherine Villeneuve, Head of Military and Special Projects at Bremont: 
"Bremont is immensely proud to support and be a part of the incredible work of the Jon Egging Trust. It's a charity founded on very similar principals to that of our own at Bremont, with strong aviation links and a passion to inspire young people. When Nick and Giles tragically lost their father in a plane crash similar to that of Jon's, it became their main inspiration to establish Bremont in 2002. We are honoured to be able to tell their story and open our doors to the Jon Egging Trust in the hopes of inspiring a younger generation to overcome adversity, think differently and achieve great things in their futures ahead." 
ENDS 
 *Name changed to protect identity